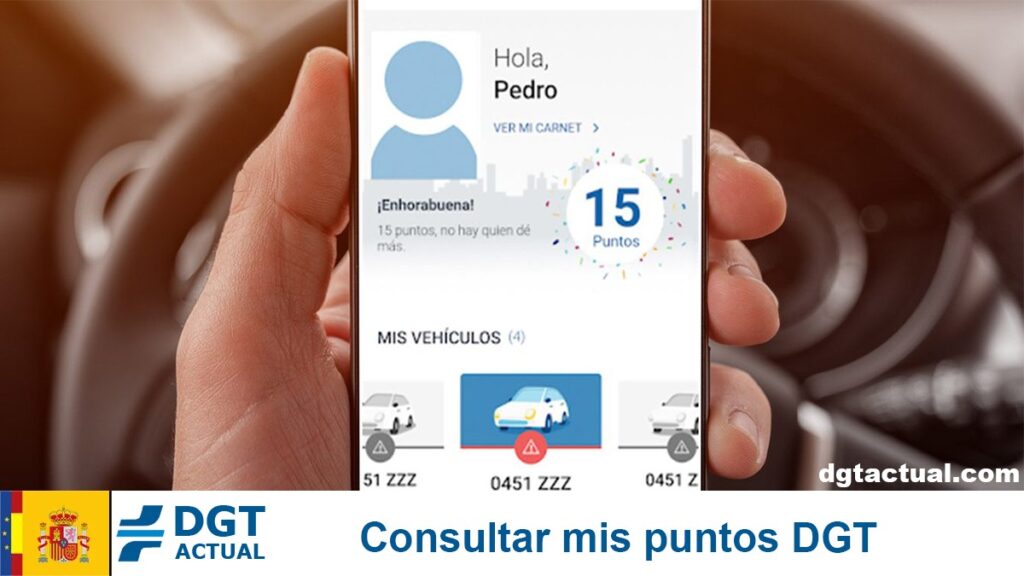 Since the entry into force of the points card it has become customary to check the available points and see how to recover some points before running out of it. And it is that it has been 15 years since the entry into force of this modality of the increasingly hardened points card. Today I explain how to recover the driving license points and what to do to get it.
The General Directorate of Traffic establishes a series of sanctions that will deduct points depending on the severity of the offense. The purpose of this measure was to deter potential offenders from committing such driving fouls. But fortunately, ways were also established to be able to recover these points.
In case you still do not know, all drivers started with 12 points in our card, which was expanded to 15 in the case of not committing any infraction with loss of points during a period of two years. In the case of new drivers, the starting points are 8.
Check the points you have
The first of all is to know for sure the number of points you have. Sometimes we do not find out that some point has been withdrawn from the card. Either because in the face of an infraction, we did not find out well that said loss of driving license points had been added or because we were not even well notified of the infraction committed.
The fastest way to check your available points is through the DGT website. When accessing you will see that you can check your points through different methods:
Through the miDGT APP.
Through your Cl @ ve or Digital Certificate.
By means of a username and password that we can request in our email.
Once you log in, you will be able to see your surplus and the number of points you currently have.
There are two things that are important for you to know:
Your lost points are recovered and returned to 12 in the event that two years in a row pass without committing any traffic offense.
With the new DGT regulations you can earn 2 additional points if you take approved safe driving courses.
You should also know that the DGT will notify all drivers who have 6 points of the license or less by letter to warn them of the danger and explain the ways you have to recover points.
How many points of the card are lost
And how do you lose driving license points? It depends on the offense committed. We explain it briefly:
Minor offenses (loss of 3 driving license points):
o Do not use the seat belt, the helmet in the case of motorcyclists or any other protection and safety element that is mandatory.
o Driving with elements that can distract your attention from driving. Such is the case with mobile phones, browsers or headphones.
o Make a non-regulatory U-turn.
Serious offenses (loss of 4 driving license points):
o Driving a vehicle without having a driver's license.
o Driving a vehicle without the license of the corresponding type.
o Skipping a yield.
o Exceed a blood alcohol level greater than 0.25 and less than 0.5 mg / l
o Not maintaining a safe distance.
o Not respecting the signals of the traffic officers.
o Passing endangering cyclists.
o Reverse on highways and highways.
o Throwing dangerous objects on the road that could cause accidents or fires.
Very serious offenses (loss of 6 driving license points)
o Altering the tachometers or speed limiters.
o Exceed the maximum driving times by 50%.
o Reckless driving.
o Have a radar inhibition system installed in your vehicle or van.
o Do not carry out the breathalyzer or narcotics test as required by the traffic officers or authorities.
o Driving under the influence of drugs and narcotics.
o Alcohol level greater than 0.5 mg / l (0.3 in the case of a professional driver)
How to recover driving license points
In addition to the option of allowing two years to pass since the last loss of points without committing another infraction so that you can recover all your points (as I have already mentioned before), the fastest and most viable option to recover points from the card is through reeducation courses.
These are the main characteristics of these reeducation courses for the recovery of driving license points:
You can recover a maximum of 6 card points with each re-education course.
These courses must always be carried out in approved centers.
The duration of these courses is 12 hours.
You can only take a re-education course every two years, in the case of private drivers.
If you are a professional driver (taxi driver, transporter, bus driver, etc.) you can take a re-education course to recover points from your driving license every year.
Total loss of card points
The situation is complicated if all your driving license points have been withdrawn. In this case, you have not only lost the points, but your card has also been withdrawn. If this is your case, the first step you must take is to obtain a new driving license.
It may also be that your driving license has been suspended for a period of two years. This means that the license has not been withdrawn, but your right to drive has been temporarily suspended. This occurs by signature sentence in the case of infractions considered a crime. In these cases, your license has not been withdrawn, but you do have it suspended for the period of two years during which you should not drive.
In this case, it is necessary to let the suspension period pass and take the Road Awareness and Reeducation Course lasting 24 hours.
The only way to cancel the suspension of your driving license is through a Road Awareness and Reeducation Course.
In case of loss of driving license due to judicial or administrative judgment for a period greater than two years, the step is to get a new driving license.
Take the driving license recovery course, with a duration of 24 hours at an Approved Center. The cost of this course exceeds 300 euros.
Pass a theoretical exam on the course. As long as the suspension period has been exceeded plus 6 months (3 months in the case of professional drivers). This test is done at the traffic offices and you have to make an appointment for it. If you do not pass this test, you have up to two opportunities, but before taking the exam again, you have to take another small 4-hour re-education course before each exam. You have to do this small course in the same educational center where you did the Reeducation course.
If you still fail on your third and last attempt, you must start the process from scratch with a new course for the Recovery of the Driving License in the same center where you did the first or in a different one of your choice.
If you pass the exam, you get your driving license back, but with 8 points only as in the case of a new driver.